Incy Wincy Spider Franchise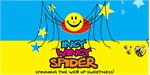 Incy Wincy Spider - Food Franchise
Incy Wincy Spider intends to provide kids with die-hard snacks tailored to each taste using our wide range of fillings; we customise to ever
Finance requirements

Available areas

India
Profile
INCY WINCY SPIDER  franchises available now in India
INCY WINCY SPIDER  franchises are now available in India. Find out everything you need to know, including the cost to start this franchise in minutes here!
ABOUT THE COMPANY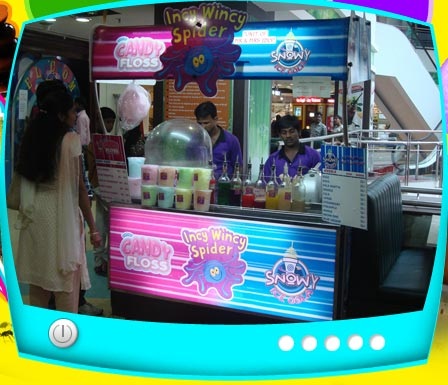 Incy Wincy Spider  has been operating since 2007 and is a recognised brand in South Indian food. We serve our customers the most delicious cotton candy, Ice Gola, Choco Flow & Fries – all of which are on par with the best on the international stage. Driven by proven, innovative entrepreneurship and marketing skill, we have flowered in a short time period.
Incy Wincy Spider  intends to provide kids with die-hard snacks tailored to each taste using our wide range of fillings; we customise to every customer's taste! We serve our snacks quickly, and people can eat them on the go.
We are now looking for new franchisees across India.
WHY CHOOSE INCY WINCY SPIDER?
Spinning delicious cotton candy is a simple, easy-to-run, popular and profitable process that has made Incy Wincy Spider the success it is today.
Sugar candy machines are not just for carnivals anymore; you now see them in malls, toy stores, grocery stores, etc. Children love candy floss – eating it and watching it being made in the machine. Our floss sugar recipe – the 1st of its kind in India – creates a wonderful, sweet aroma that will drive kids right to your cotton candy kiosk.
WHAT DOES INCY WINCY SPIDER DO?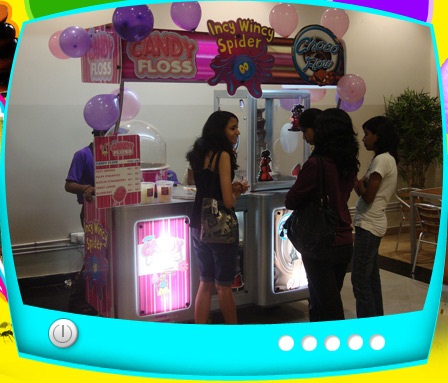 CANDY FLOSS: Candy floss - famously called 'grandmother's hair' & cotton candy. We serve them in different flavours and colours, giving our product a unique touch in Chennai.
CHOCOLATE FOUNTAIN: Envision a chocolate fountain with a continuous waterfall of warm, rich, melted chocolate cascading over a multi-tiered fountain for you to dip strawberries, cookies and cakes in for a truly sumptuous taste!
These are a few of the delicious items on our Choco-Flow menu that uses smooth, rich, 100% chocolate.
BENEFITS
You will be part of the Incy Wincy Spider franchise across India, meaning you run a business as the boss but never have to worry about being alone.
With the Incy Wincy Spider brand behind you, you have all you need in terms of equipment and training to succeed, no matter the location of you and your franchise!
FINANCIAL INFORMATION
Master Franchisee:
We appoint one person in each city to operate as our Master Franchisee and will also sub-franchise this venture in their city. We offer one unit with the license fee of appointing ten more units under the Master Franchisee in that particular city under this plan. The Master Franchisee is offered all four concepts in one kiosk.
Unit Franchisee:
Under the non-exclusive, single-unit franchisee plan, we offer one unit. We are free to open further single/multiple outlets in that city but not in or near the area of an existing single unit. Under this plan, units can either opt for any two concepts to be clubbed together in one kiosk or all four concepts together in one kiosk, depending upon the space available. The Unit Franchisee is under the control of the Master Franchisee of that city.
Incy Wincy Spider  offers two types of franchisee:
Master Franchisee: Rs. 5.5Lacs
Unit Franchise:  Rs. 2.5Lacs (2 concepts) Rs. 3.5Lacs (4 concepts)