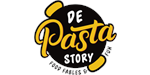 De Pasta Story - Food Franchise
De PASTA STORY is committed to serving delicious, mouth-watering Italian cuisines and other innovative food varieties from a kiosk
Profile
De PASTA STORY franchises available now in India
De PASTA STORY  franchises are now available in India. Find out everything you need to know, including the cost to start this franchise in minutes here!
ABOUT THE COMPANY
De PASTA STORY  is committed to serving delicious, mouth-watering Italian cuisines and other innovative food varieties from a kiosk – the first of its kind in India!
For today's fast-moving food lover, a strong variety of foods – pasta, thin-crust pizzas, wraps, nachos, fries, toasties, waffle lollies & more! – is a big attraction. Our kiosks bring readily available food to people who demand quality food at great prices and swift service. De Pasta Story is at the forefront of this food sector.
Our target audience is the vegetarian urban connoisseur's crowd, who find it difficult to get pure veggie Italian cuisine in the city. Our menu provides all this, along with classic Italian & American classics like lasagne and mac' n' cheese.
De PASTA STORY's  major USP lies in our portfolio and ticket size. We are committed to bringing Italian cuisines to all urban middle-class people at affordable prices.
WHY CHOOSE De PASTA STORY?
De PASTA STORY  franchise brings you the chance to run a business without being alone. Excellent systems will support you in the areas of:
Operations
Training
Advertising
Marketing
Purchasing equipment, as well as assistance with the setup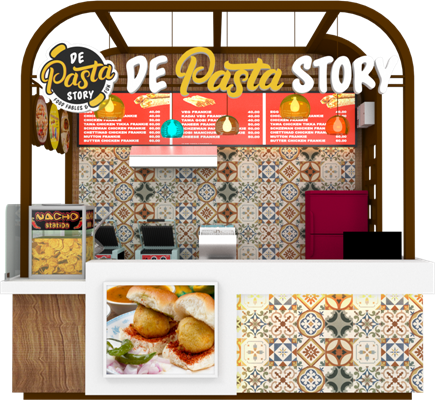 To become a franchisee, you must successfully complete our training orientation. To get the franchise up and running, it will usually take 15 days from the end of the training tenure.
Franchisees must have an active, hands-on, day-to-day involvement in the operation of the outlet. You will be running your counter as an independent business and are responsible for all normal business functions, i.e., recruiting, accounting and administration.
A De PASTA STORY franchise is typically a low-cost, high ROI option with crucial support from the company and a high degree of differentiation in the food industry. This franchise opportunity is open to all, even those who have no prior experience in this business.
This is only possible because of the quality training and standard operating procedures in place, backed by professional operations, logistics, marketing and HR training team to help you become part of a group of successful entrepreneurs.
At De PASTA STORY, we work at the heart of the business for you to reach the heart of our consumers.
WHAT DOES De PASTA STORY DO?
De PASTA STORY  brings excellent Italian cuisine to the discerning masses who don't always have the time to settle down and relax for their food. They want to eat on the go and make the most of their time, so giving them top quality food is essential. It not only feeds them but can help bring some freshness and uplift to their day.
At De PASTA STORY, our customers matter to us! We are there for them whenever they need us so that they can rely on us. Not only is that convenient for them, but it merely adds to our growing reputation and brand as a company that is valued by our customers – old and new – and by the franchise as a whole for bringing us success and profits every day.
BENEFITS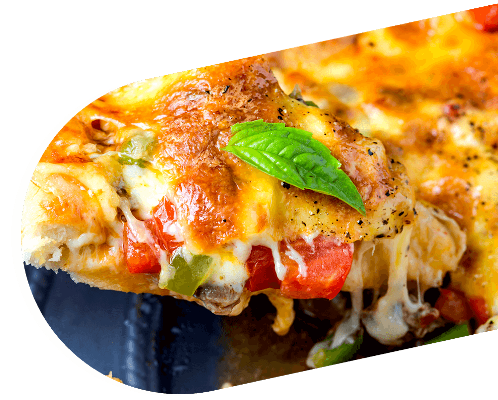 Recent economic trends seem to impact India's consumer foodservice industry, with a growing GDP of 7.7 - 9% in the coming years. This heralds a positive outlook for the food industry in our country.
Higher incomes among consumers in the top 25 cities and the trend towards eating out are combining to offer enormous growth opportunities in the foodservice sector. This promises a new era in food expenditure and eating out in general. Ordering food through online portals like Zomato, Swiggy, Food Panda, Uber eats, etc., has become so common now since people make choices based on price, speed and convenience.
To lead the QSR industry, De PASTA STORY offers better quality ingredients and more dynamic and varied menu choices. However, logistical planning and outsourcing of ingredients are crucial factors in keeping the cost of operations low. The in-house solutions offered by De PASTA STORY promises you just that, and by doing so, the company safeguards the returns of its franchisees.
FINANCIAL INFORMATION
De PASTA STORY  offers two types of franchisee:
Fussille
(Cart Model) – 100-200 sq. ft. – 6, 00,000/- + Kiosk cost (varies from 2-5 lac)
Penne
(Store Model) – 200-800 sq. ft. – 9,00,000/-