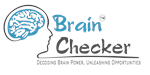 Brain Checker - Counselling & Brain Development Franchise
Help shape the future of countless children by shaping your own future today!
Finance requirements

Franchise Fee: Rs. 1,18,000 – Rs. 4,72,000
Liquid Capital: Rs. 2,00,000 onwards
Minimum Investment: Rs.60,000

Available areas

India, UAE, Sri Lanka, Nepal, Bangladesh
Profile
Brain Checker franchises in India are the leading force in career path assessment.
ABOUT THE COMPANY
"If I had only an hour to chop down a tree, I would spend the first 45 minutes sharpening my axe."
Abraham Lincoln
The global jobs market is continually in flux as technology advances and evolves at an exponential rate. How we aid the next generation in choosing what career path to follow must and will adjust itself to the needs of this environment.
This is where Brain Checker comes in!
Founded by Psychologist's Dr Ashwin Raje & Keya Raje, the franchise is India's largest Counselling & Assessment company with a nationwide reach of 150+ partners in over 23 cities. We also have an international presence that extends to Nepal, UAE and Saudi Arabia.
Our purpose is to provide a range of products for schools, colleges, corporates, and individuals to assess & decide future course of action.



The results speak for themselves:
WHY CHOOSE BRAIN CHECKER?
20+ Regional / National News Citations
6+ National Awards
350+ CBSE / ICSE School Appreciation
2 State Government Tie-Ups
It can be confusing, stressful and overwhelming for many people today to work out how to choose the right job for them. This is why what Brain Checker offers is of such value.
The company started in 2012, consisting of only two psychologists trying to create a brand in the then non-existent Career Counselling & Brain Development Sector. Today, Brain Checker has become the leader in India for taking students through assessment modules to find the right course for them.
We can give people from all backgrounds and interests the guidance, support, and motivation to find the right job. Through your business's help, they will end up doing that which they enjoy and get paid for it.
This is the opportunity for you to take a share of, and contribute to, the success of our 150+ partners.
Our work comes with obvious financial rewards, and the personal satisfaction of knowing your business makes a real, practical difference in your clients' lives every day.

WHAT DOES BRAIN CHECKER DO?
The internet alone has brought about so many new areas of work – vlogging, influencing, journalism – that companies everywhere are crying out for new blood. With 60% of India's population needing career guidance, Brain Checker is ideally placed to help people find where to aim and how to get there.
We provide counselling services for:
Early Education & Development
Multiple Intelligence & Evaluation
Career Guidance & Stream Selection
Interest Assessment & Counselling
ADHD, PTSD, Depression, Stress Management
Corporate Assessments & HR Audits et.al.
Brain Checker uses a range of tests and assessments for people as young as 3 years old and all the way up to 60. We run tests, including:
MIT: Multiple Intelligence Tests (3-13yo)
CIQT: IQ Tests (13-21yo)
Brain Stamina: Cognitive Brain Development (7-18yo)
Psychometric: The Advanced Assessment (13-21yo)
Engineering: The Specialist Sorter (13-18)
H-PACT: Corporate Assessment Series (21-60yo)
These recognised assessments for children and young adults & professionals let us help them through the complex tangle of decisions and paths that lies ahead. Recognising their interests and potential is one of the most satisfying things one can do; helping real people spread their wings and flourish in whatever field they choose through their work with your business.

BENEFITS
Part of a recognised international franchise. You are the boss, but you're never alone or without help and support.
Fully recognised assessments, making this a top-quality counselling business that practically sells itself.
A unique business opportunity with low competition.
No office set-up is required.
Complete online training & certification provided.
Earn upwards of 80% profits on all assessments.
Operate across India without any geographical restriction.
Add on a second income in the lucrative education sector in India.
Lowest investment in the industry with minimal operating costs.
Cloud Based Assessments.
Integrated online training program.

FRANCHISEE REQUIREMENTS
Graduate & above is the minimal qualification expectation.
Interest in the Education Sector, Teaching, Psychology is a plus.
Ability to devote 2-3 hours per day to expand the business.
Entrepreneurial spirit and a real go-getter.
Dynamic, innovative and able to think outside the box.
Confident and good public relations skills are preferred.
This role would best suit a 'people person' – someone willing to be extroverted and enjoys talking to people.

FINANCIAL INFORMATION
Franchise Fee: Rs. 1,18,000 – Rs. 4,72,000 depending on the model chosen by the franchisee.
Minimum Investment: Rs. 60,000 for marketing and business expansion for the first six months. This amount can be gradually increased as one builds the business into a success.
Minimum Liquid Capital: Rs. 2,00,000 onwards.